Lodging and Travel Information
Venue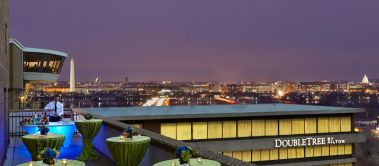 DoubleTree by Hilton Hotel Washington DC - Crystal City
300 Army Navy Drive
Arlington, VA 22202
Website
Directions and Parking
Hotel
All participants are responsible for all travel and lodging arrangements. However, KAI has secured sleeping room blocks at the following hotel, please review how to make reservations below.
DoubleTree by Hilton Hotel Washington DC-Crystal City
300 Army Navy Drive
Arlington, VA 22202
Website
Government per diem Rate:
$239 per night, plus 13.25% tax
Group code:
2019 CNCS Office of Research and Evaluation Research Conference
*For reservations, please use this
link
.
Lodging "cutoff" date:
Thursday, August 15, 2019 – all rooms must be reserved on or before this date. All unreserved rooms will be released on August 15.
IMPORTANT:
At the time reservations are made, one nights' room deposit will be required. Participants are responsible for lodging costs and are to be settled directly with the hotel. Please assure credit card authorizations or official company checks are coordinated and delivered at or before arrival at the hotel.
Airport Shuttle:
A hotel operated shuttle is available complimentary. Schedule a pickup at the airport please call the Front Desk at 703-416-4100.
---